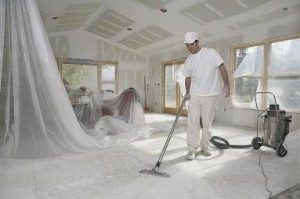 At the time when your house goes through the phase of remodeling or renovation it is evident that the builders would leave debris and dust behind which could be a headache for you to clean. That is why we recommend you to take the help of professional cleaners as they are the best to help you clean up the entire mess.
Our cleaning agency is called Cleaners Putney and provides professional after builders cleaning services in Putney, SW15 London. The mess involves huge blocks, chunks of dust, debris, etc. which is difficult to be cleaned by yourself with the tools and chemicals you might have.
Hence when you hire our professional after builders cleaning service our team visits your place and after a thorough investigation provides you with the estimates for cleaning up entire property. You may also receive a quote over the phone. Our after builders cleaning do not include the carpet and upholstery cleaning services which may be availed by you as per your needs for an extra charge.
As a part of our regular process of after builders cleaning service our cleaners perform thorough deep cleaning of the entire house. They will vacuum cleaning all carpets as well as mopping of the floors in your house. The floors might be of wood or marble and we would provide the adequate methods to clean them. In addition we clean the window frames, windows and other not so easy to reach arrears.
When it comes to your living rooms or the bedrooms it's certainly a different approach we follow. We carefully move all your furniture and then remove each and every cobweb. Besides that all the radiators and the other appliances are also cleaned in case they catch dust and dirt within.
As we know after builders cleaning is a bit longer process when compared to other types of cleaning services. It may take up to six hours for cleaning up a large area. You are welcome to provide any suggestions that you wish to for the particular cleaning service you have called them for.
About Putney
Putney
Putney appears in the Domesday Book of 1086 as Putelei. It was noted that it was not a manor, but obtained 20 shillings from the ferry or market toll at Putney belonging to Mortlake. Putney is serviced by mainline trains to Waterloo Station from Putney Station and by London Underground from East Putney. Putney Bridge station is across the river in Fulham. Services to Waterloo are every 5 to 10 minutes making it a popular location for young professionals commuting into central London.
Putney Bridge
Putney Bridge is a London Underground station on the Wimbledon branch of the District Line. Putney Bridge currently has a bay platform (platform 2) which can only accommodate C stock trains. The bay platform is in the middle of the eastbound and westbound tracks. Now, because the westbound track is on a curve, there is a 10 mph speed limit for Wimbledon bound trains.
East Putney tube station
The station was opened by the Metropolitan District Railway (MDR, now the District Line) on 3 June 1889 on an extension from Putney Bridge station to Wimbledon. The junction between the District Line tracks and what is now the National Rail loop to the main line is immediately to the south of the station. Two pairs of tracks (one pair for each operator) run through the station giving it a narrow Y-shaped arrangement with a shared central island platform and two separate platforms across the tracks for opposite directions.
Putney Vale
Putney Vale is a small community at the foot of Roehampton Vale, just off the A3. It is part of the Roehampton Ward of the London Borough of Wandsworth. There is a large residential estate, called Putney Vale Estate, tucked away behind the supermarket and cemetery. Built in the mid-1950s, the housing consists mainly of ex-local authority masionettes and some semi-detached housing. Today, most of the dwellings are in private hands, but some are still with the local authority.