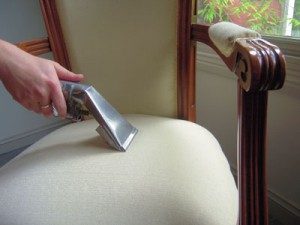 Cleaning your house everyday is a time-consuming job itself – upholstery cleaning is something different altogether. Like any other material, your seat covers and furniture gets dirty too with vermin and dust making it their hometown and vacuum cleaner ruining the situation even more. All that you do to clean it doesn't help it; in fact it damages the fabric and shortens the life of your upholstered furniture. The best possible action in this scenario is to get professional help and let the experts clean your upholstery for you.
We are Cleaners Putney and deliver professional upholstery cleaning solutions in Putney, SW15 London. Upholstery cleaning is not something you can pass on – the dirt can cause allergies and your furniture might even stink. In order to protect it from wear and tear, you need to clean it and clean it with care.
And to perform the task effectively, we use steam cleaning method which is although powerful but not harmful for the fabrics. Even our cleaning products are mild and effective but bio-degradable.
Before starting the process, our cleaners will inform you about the time duration of the procedure. Cleaners Putney can send professional upholstery cleaning technicians at your place whenever you need them. Proficient and efficient, we provide you the best cleaning service in Putney, SW15 London without damaging anything you own. It is a rule to not even change the living arrangement while we do our way – you will find your curtains just the way they were before.
Although our experts can deal with any material – sofa covers, dining table chairs, ouch or blinds, they leave behind tough stays if they think it will damage the fabric. If your rug is too old to treat or could only be dry cleaned, our cleaners will give you some tips on how to maintain it rather than causing any harm to them.
About Putney
Putney
Putney appears in the Domesday Book of 1086 as Putelei. It was noted that it was not a manor, but obtained 20 shillings from the ferry or market toll at Putney belonging to Mortlake. Putney is serviced by mainline trains to Waterloo Station from Putney Station and by London Underground from East Putney. Putney Bridge station is across the river in Fulham. Services to Waterloo are every 5 to 10 minutes making it a popular location for young professionals commuting into central London.
Putney Bridge
Putney Bridge is a London Underground station on the Wimbledon branch of the District Line. Putney Bridge currently has a bay platform (platform 2) which can only accommodate C stock trains. The bay platform is in the middle of the eastbound and westbound tracks. Now, because the westbound track is on a curve, there is a 10 mph speed limit for Wimbledon bound trains.
East Putney tube station
The station was opened by the Metropolitan District Railway (MDR, now the District Line) on 3 June 1889 on an extension from Putney Bridge station to Wimbledon. The junction between the District Line tracks and what is now the National Rail loop to the main line is immediately to the south of the station. Two pairs of tracks (one pair for each operator) run through the station giving it a narrow Y-shaped arrangement with a shared central island platform and two separate platforms across the tracks for opposite directions.
Putney Vale
Putney Vale is a small community at the foot of Roehampton Vale, just off the A3. It is part of the Roehampton Ward of the London Borough of Wandsworth. There is a large residential estate, called Putney Vale Estate, tucked away behind the supermarket and cemetery. Built in the mid-1950s, the housing consists mainly of ex-local authority masionettes and some semi-detached housing. Today, most of the dwellings are in private hands, but some are still with the local authority.